From Achill Island to Munich
My Nana made these pancakes on the spur of the moment when guests would arrive at her Bervie guesthouse on Achill Island. Homemade scones and jam were always available but these delicious pancakes were Nana's specialty. My Mum also used to delight us with these pancakes as children and still does when we come home for a visit. Today, I'm living in Munich, in the district of Pasing, and bake the same pancakes for my family.
One day in February last year, we were on our way home and spotted a notice in the window of an empty shop. It was from photographer Andreas Hantschke who was inviting people from Pasing to cook something on the premises to be included in a book called Das Pasinger Kochbuch (The Pasing Cookbook). We thought this creative pop-up project could do with a little Irish influence so we contacted Andreas and were more than happy when he told us we were in.
It didn't take me long to decide what to make as I just recently made these delicious golden pancakes. So why not share with everyone how easy they can be made. Andreas was so friendly and relaxed that it was easy to feel comfortable in the little kitchen. While I was baking he was snapping away with the camera. I really enjoyed this experience and hope that I inspired you little bit to start baking straight away.
Ingredients
100g flour
2 tsp baking powder
25g caster sugar
pinch of salt
1 egg
100-125ml milk
Drop of sunflower oil for greasing
Method
Sieve the flour and baking powder into a bowl, add the sugar and salt and stir to mix.
Make a well in the centre, crack in the egg and whisk, gradually drawing in the flour from the edge. Add the milk gradually, whisking all the time, to form a smooth batter.
Lightly grease a frying pan and warm it over a moderate heat. Drop a few tablespoons of the batter into the pan, keeping them well apart so they don't stick together.
Cook for about 2 minutes, until bubbles appear on the surface and begin to burst and the drop scones are golden underneath.
Then flip them over and cook on the other side for a minute or so, until golden on this side as well.
Remove from the pan and serve warm.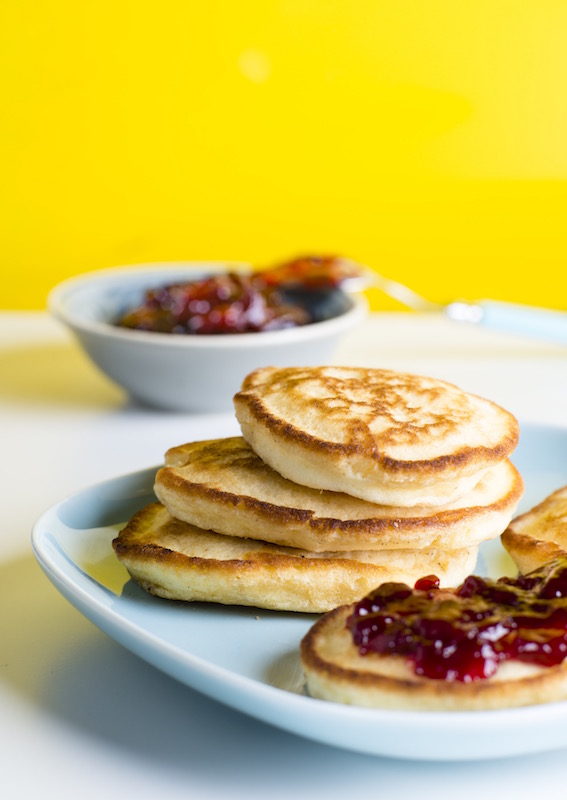 If you want to see more photos from Andreas Hantschke please visit his homepage. And if you want to have a closer look at Das Pasinger Kochbuch please click here.