The idea for this blog has been on my mind for a long time. I can't even remember when it first emerged. I only know that I had to summarise all my thoughts in a first little concept at some stage. That was in October last year. Since then, the idea has been growing and growing and growing. And now it's time to turn this idea into reality.
There was a very special event that completely changed my life, that made a lot of marvellous things happen and that is also responsible for this blog: A wedding in Ireland. Two of my best friends were to get married in Cork. An Irish bride. A Bavarian groom. An Irish-Bavarian wedding. And what a wonderful wedding that was! I can still feel the positive vibe of these exceptional three days. I still see the three flags outside the venue where we celebrated the marriage: The Irish, the Bavarian and the German. I still hear us singing Irish and Bavarian songs until the early morning. What fascinated me the most was how quickly and well the Irish and the Bavarians made friends with each other and celebrated together. It felt like one big family that speaks two different languages. Well, four in fact: Irish, Bavarian, English and German. Everywhere I looked I saw smiling faces and happy people. The entire wedding was a never-ending flow of laughing, singing and calling "Sláinte!" and "Prost!". It was a little piece of heaven.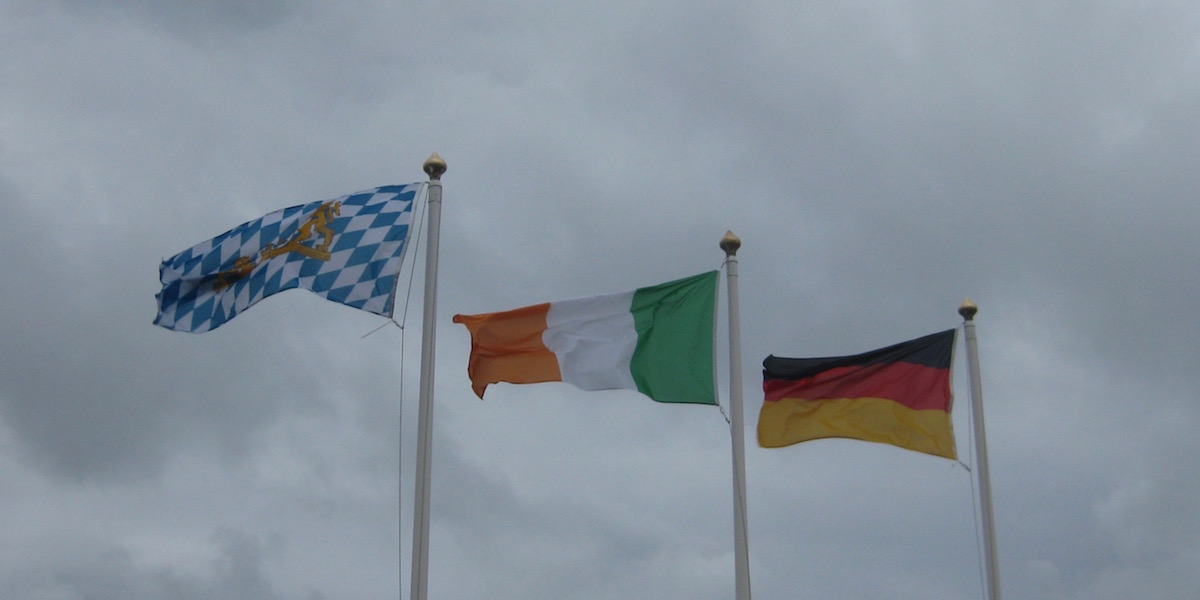 And not only the newly married couple had the time of their life. I did so too. I met the love of my life. She came out of the blue in a blue dress. It was love at first sight. And I immediately knew what to do. A few weeks later I quit my job, left Munich and moved to Ireland's west coast. To Claringbridge, the home of the oyster, just south of Galway. And I had the best days, weeks and months of my life there. A lot of my experiences will be shared here. While writing these lines I remember the smell of the sea and burning turf. A smell that describes this beautiful region so well.
Since that special wedding in Cork I have been collecting Irish-Bavarian content. And I was surprised what I discovered. Bavarian beer in Irish supermarkets and pretzels at the Galway Continental Christmas Market were just the beginning. I saw that Dublin has its own Oktoberfest. I knew that Munich has a well-established Saint Patrick's Day Parade. I learned about Saint Kilian who was an Irish missionary bishop and the Apostle of Franconia. I remembered Heinrich Böll's Irish Journal and read Hugo Hamilton's The Speckled People. I found out about the Irish-Bayrisch Kulturfest in Munich and the Greenfarm Festival in Hallbergmoos, two events that I visited this year. I noticed how popular Guinness and Kerrygold are in Bavaria and how popular BMW and Audi are in Ireland. I realised that both countries have a strong catholic presence and history, are proud of their cultural heritage and have a passion for their own beers that are famous all over the world. They both also have a strong presence of Aldi and Lidl.
Sometimes an idea needs a special occasion to turn into reality. This special occasion is the first birthday of my daughter Ciara. She is Irish-Bavarian by birth. The publication date of this post commemorates the day one year ago when we came home from hospital.
Das Veröffentlichungsdatum dieses Beitrags erinnert an den Tag letztes Jahr, an dem wir aus dem Krankenhaus nach Hause gekommen sind.
I dedicate this blog to you my dear Ciara and all the Irish-Bayrisch and Irish-German children in the world. May you all live lives full of happiness and enjoy your rich cultural heritage.
May all of you who visit IrishBayrisch find your time here worthwhile. May you find inspiration for visiting unknown places, attending exciting events, getting to know interesting people and making new friends. Please leave some comments and let others know if you like what you see here. And if you hear or experience something worth sharing, please let us know. You may be the author of the next post.
Enjoy IrishBayrisch!