A music experience from 21 October 2015 at the Schlachthof in Munich
Anacrusis
"We play in flat keys, they play in sharp keys. That doesn't really fit." This statement is from somebody who knows what he's talking about: Siegi Mühlbauer. And that's exactly why I'm here tonight. I'm curious to find out how it sounds when the Bavarian music comedians Da Huawa, da Meier und I and the traditional Irish band Na Ciotogi present their first joint CD together. Of course it is entitled Irish-Bayrisch.
They've been on stage together already since November 2005: Christian Maier (da Huawa), Matthias Meier (da Meier) and Siegi Mühlbauer (I) of Da Huawa, da Meier und I and Timmy "The Brit" McCarthy, his son Tony McCarthy, Peter Corbett, Eoin O'Riabhaigh and David McMahon of Na Ciotogi. Na Ciotogi is Irish and means "the left-handers". That's the name the founding members of the band chose for themselves as they all prefer to use their left hand.
It was serendipity that brought the eight musicians together: David, who lives in Lower Bavaria, met Christian at a choir practice. So finally, the idea to start an Irish-Bayrisch music project, that had been on Timmy's and David's mind for a long time, could become reality. Today, both bands can look back on a decade of joint concerts where they've been combining Irish and Bavarian folk music and sweeping off their audiences' feet.
Let's go
The concert begins. The uilleann pipes fill the room with a hint of Irish magic. It sounds like mist that slowly rises from the ground. Then three Bavarian voices sing: "Jessas Leit, heit gibt's a Musi …" What a perfect introduction to an entertaining evening with music! Swiftly all the instruments connect with each other and create a style that is authentic and harmonious at the same time. The lively Irish sounds energise the solid Bavarian rhythm. I can hear and feel the infinite joy of playing music.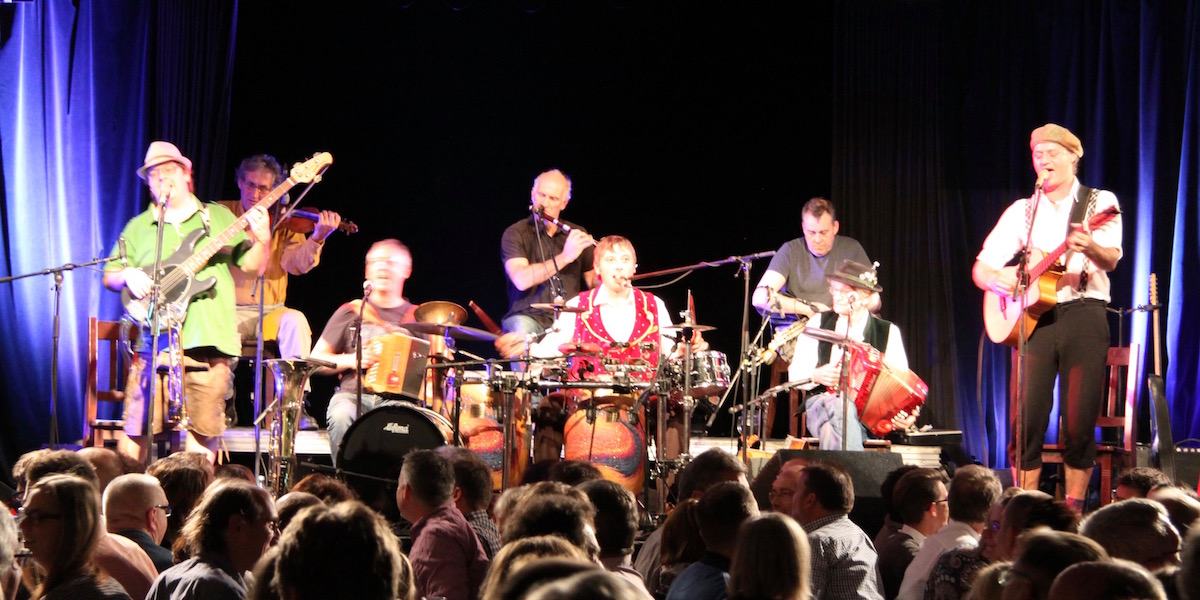 You can tell that Irish-Bayrisch is the favourite project of the band, as Christian Maier says during his welcome. He tells us that we will get to know some similarities between Ireland and Bavaria in the course of the evening that are reflected in the music. But before the show can go on, there is an integration test to be passed. The left-handers start and prove that they're familiar with a couple of Bavarian phrases: "Grias Eich!" "Ho-ho-hobe die Ehre!" "Servus, I bin da Tony!" "Do bin i dahoam." "Ja, wos douts'n ihr dou?" Da Huawa, da Meier und I have also done their homework and welcome the audience in Irish with "Fáilte" and "Dia dhuit". "Póg mo thóin" is translated into Bavarian as "pack ma's an" ("let's do it"). That's Menglish. Meier-English.
Three similarities
In the second song we get to know a first similarity: Beer. Well, why doesn't that surprise me? Often enough I have experienced and enjoyed the appreciation of Irish and Bavarian beer, not only in their respective home countries but also in the whole world. This passion is celebrated with the tune 's boarische Bier von Roider Jackl. The Irish-Bayrisch version of this song teaches us a difference between Irish and Bavarian music that has its roots in the countries' different geographical locations. Ireland is an island and always on the move. It resonates and is described by 6/8 time. Bavaria, on the other hand, is located in the middle of the European continent. It is fixed and characterised by 3/4 time. Anybody who is good at reducing fractions will spot a common denominator. "Slainte!" "Prost!"
A second similarity between Ireland and Bavaria is, that both have their own language. (Strictly speaking, Bavarian is a dialect but who wants to be too strict on an evening like this?) David tells us that Gaelic – and Irish is a form of Gaelic – is the oldest language that is still spoken in Europe. About 6% of Ireland's population speaks it. In order to honour both languages, the eight musicians play the traditional Irish song An Poc ar Buile. "Poc" means "Goaßbock" ("billy goat") in Bavarian and "Buile" means "damisch" ("crazy"). So we hear the story of the crazy billy goat. David sings the traditional Irish lyrics and Christian literally translates every verse into Bavarian. There is only one exception: Altötting (a very famous destination for pilgrims in Bavaria) which – according to Christian – lies close to Dublin. That doesn't sound too absurd after a couple of bars of Irish-Bayrisch music. "Ha-le-lu …"
Farming is a third similarity. And as farmers apparently enjoy moaning, the genre for the next song is easily found: The blues, in which people typically moan about something. The Bauern Blues ("Farmer's Blues") in which the bond of the farmers to their tractors is so humorously illustrated is perfectly suited to express this phenomenon with music. The uilleann pipes open the song in a very bluesy way. Then, the trumpet joins in. Both instruments play a passionate call and response that makes you believe that the blues emerged on the green island under a white and blue sky.
Longing
A wonderful Irish-melancholic song is Passage West from John Spillane about the port town of the same name close to Cork. It is dedicated to the people who left Ireland and miss their home country. After a few sounds I'm also taken away and feel a deep longing. The playful flute draws a picture in front of my inner eye. I'm standing at the sea. The air is fresh and there is a soft breeze. Big clouds of white and light grey are moving through the sky. Waves are steadily crushing against the cliffs. The grass of the meadows is shining in a strong green colour. Doves are wheeling over my head. A ship is leaving the port. People are waving. A man is sitting in front of a white house, playing a stringed instrument and singing. Then I hear brass players that beautifully complement the singing. It sounds like a farewell from the distant Bavarian Alps that is blown to the southern Irish coast by the wind. I get itchy feet and feel homesick at the same time. I miss Ireland and the sea. I feel the affinity to Bavaria and the mountains. I ask myself where I feel home more. It is a feeling that is wonderful and strange at the same time. I think of my daughter. What would she feel if she should listen to this song some day? For me, Passage West is the most beautiful song of the evening as it evokes so many emotions in me.
It's all in the mix
There is a lot of vitality in Duwackl. It's a song about the passion of snuffing tobacco. "Duwackl" or "Duwaggl" is how they call snuff in the Bavarian Forest. A fact, that Anthony Rowley explains to me after the concert on the Internet. The song is a marvellous mixture of Irish and Bavarian music. All the various instruments can thoroughly live it up. Happily they dance with each other. The rhythm changes quickly from 2/4 time to 3/4 time and back. The uilleann pipes, which are about to be my favourite instrument of the evening, skilfully connect the different changes of style and rhythm. The people in the audience are clapping their hands and/or swaying as this would be their last chance. I can't tell if I'm sitting in an Irish pub or in a Bavarian restaurant. Da Huawa, da Meier und I try to get the swaying organised with their unique humour because in Europe everything has to be regulated. But it's the biggest fun when it's all over the place.
A Tip
Before the very last song of the evening, Christian Maier has a tip for everyone who plans to travel to Ireland: Don't go home when the pub closes. Just stay there. You can't get out but you're in(side). Then you can experience something special that sounds like the following encore. And so, at the end of the concert, eight friends are standing on stage with their arms around each other singing ardently and unplugged The Auld Triangle.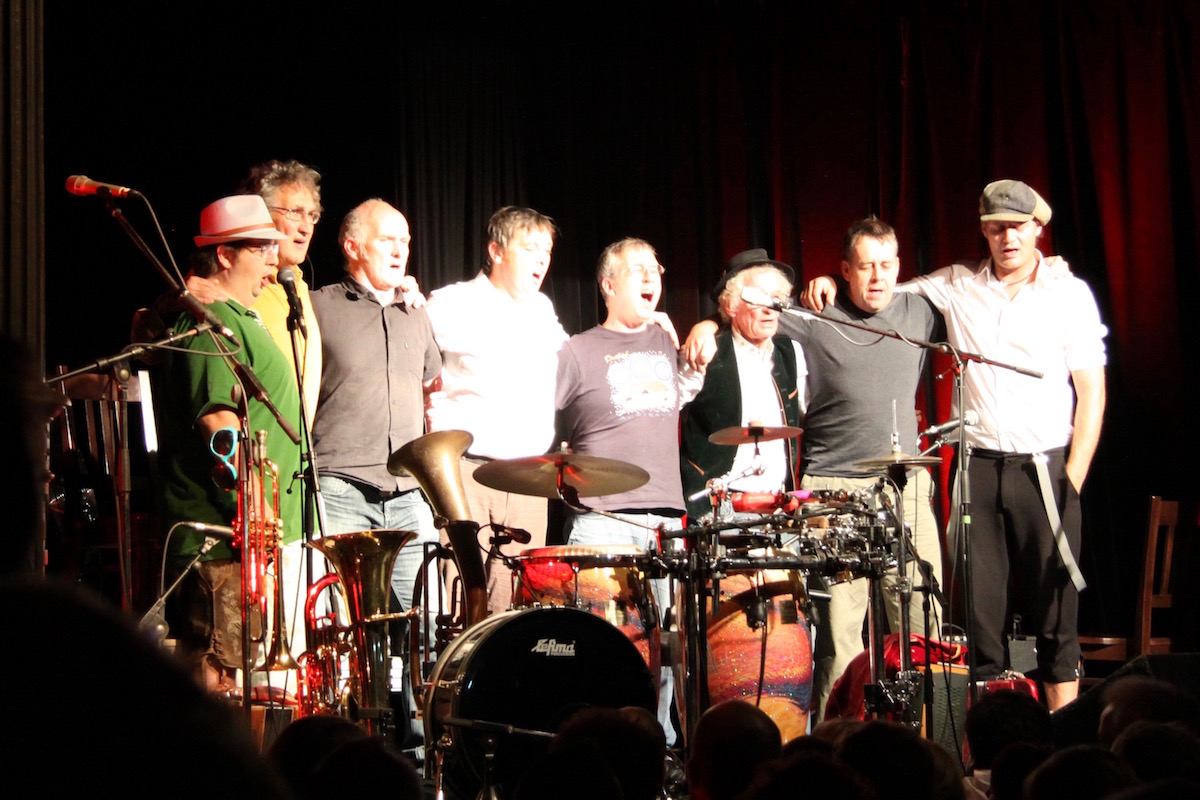 I could listen to this for ages. Like once upon a time at the Irish-Bayrisch wedding. I'd love to be taken away by the waves of music and happiness. How well Ireland and Bavaria get along with each other was something I was able to experience during this very entertaining and diverse evening.
Besides the songs that are mentioned here, a lot of other wonderful pieces of music were played at the concert. Nonetheless, in this post I focused on the ones that are very dear to my Irish-Bayrisch heart. If you'd like to find out how Irish-Bayrisch sounds, go out and visit one of the next joint concerts of Da Huawa, da Meier und I und Na Ciotogi. If you don't want to wait that long, listen to their joint CD
. Check it out! Or, like da Meier would say: Jacket out! Jacke aus!